Introduction
G11 is a 10 watt all-mode SDR transceiver first introduced in 2012. As a kit: the main PCB contained pre-soldered SMT components and the builder was required to install around 120 through hole components. The G11 could be configured to cover up to 5 HF bands or as a single 6m unit, or single 2200m / 630m band. The design was by Tasa YU1LM, Goran YT7PWR was responsible for the software [GSDR], Bruce KF1Z was the kit distributor and my role was production. 200 units were sold, of which many were successfully assembled and put on air, on all bands from 137KHz to 50 MHz. G11 was particularly popular with QRP Contesting enthusiasts and many of them won top places in the QRP category in major international contests.
Here is a photo pf the original SMT pre-populated G11 board:

Three years later...
Due to business commitments, I was inactive from 2014 to early 2015. In May 2015 my interest shifted to HPSDR transceivers, primarily Hermes and Angelia. Those modern radios offered 'next generation' SDR features. However after investing in HPSDR hardware I was somehow disappointed: while Hermes certainly offered more features than my old G11, the real on-air performance was negligible. In many instances, parallel WSPR test between G11 and Hermes convinced me that G11 can at least hear as well as Hermes. And most importantly, I was missing 'the kit aspect' since Hermes is basically a mere plug-and-play board. I've missed the soldering smoke and excitement of home-brewing.
The decision to 'revive' the G11 project was an easy one, but the new G11 project came with a twist. Instead of offering a PCB with pre-soldered SMT components, the new G11 will be a true 'Do-it-yourself' challenge: it would be up to each builder to source and solder all 900+ components by himself.
The G11 DIY will offer a true reward for a keen builder interested in soldering, learning about the SDR technology and operating a fine piece of homemade equipment on-air. In a way - a true 'getting back to the roots of amateur radio'.
Below: G11 'do it yourself' red PCB, partially assembled. The blue board above is optional HF multiband filter board.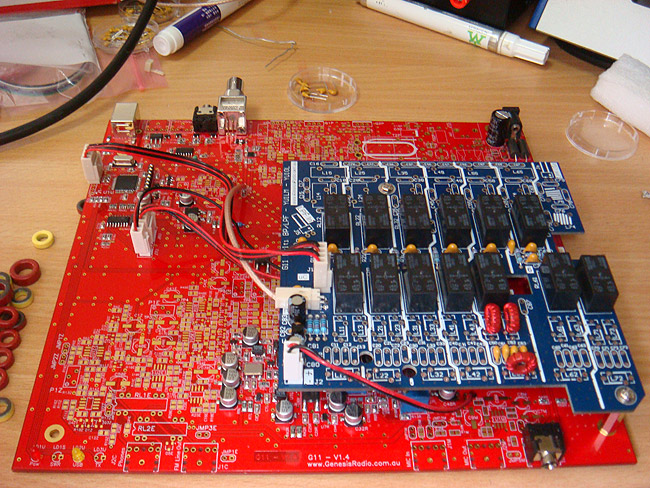 Getting started
Before you get too excited about the project, couple of warnings. G11 is a serious performer. However, 'to get it right' requires patience, willingness to learn and good soldering skills. This is not a weekend novice project! The building instructions are bit sketchy so joining the GenesisRadio Yahoogroup is the very first step. Members of Genesis Yahoogroup are your best source of timely information and will gladly help you to get your G11 project completed. Be prepared to do some troubleshooting! The ride could be bumpy and you may take a detour or two, but your persistence will be rewarded.
Requirements
Most of the stuff mentioned here will be covered in detail later on. Here is just a very brief list of hardware and software required for G11 project:
- PC running Windows
- quality sound card. Recommendation: ASUS Xonar Essence STX around $180
- G11 bare PCB board: this board is available from myself. Price is USD$60 plus $15 for delivery. Included in price are 10 switches PE4230 which are hard to source components. To order, PayPal to nick@clockmaker.com.au
- G11 boot / hex file: you will receive this file via email
- Electronic components. Bill of material consists of 3 separate files: BOM1 SMT, BOM2 TH and BOM3 TH.
First two lists are here BOM1 SMT and BOM2 TH and these components are available from manufacturers, wholesalers, online, eBay and also from Evan, ZL2TFA/W4
- Third list is BOM3 TH and components are available from manufacturers, wholesalers, online, eBay and also from Bruce, KF1Z - G11 enclosure: Available from KF1Z
- PICKit programmer to load the boot file. Recommended: PICKit3 Available on ebay for around $25.
- OPTIONAL: should you wish to operate G11 on all HF bands instead of just 5, you would need G11 Multiband filter board available from KF1Z
- 12V / 5A DC power supply
Software
- GSDR software, consisting of two files:Installation file and Latest update
- VB Audio Cable - virtual cable: Pack42b
- Virtual COM port: Com0Com signed driver or VSP Manager by K5FR
- Digimode software - many to choose from. Recommended: WSJT-X
- logging program - many to chose from.
I assume you already have a microphone, CW paddle and efficient tuned antenna.